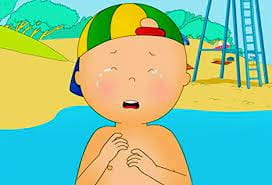 Now that my kids are older, I feel like it's a good time to go back and make fun of the weird shows that really grabbed their attention. Let's start with a classic.
The Wiggles should never have even been a thing and yet, it was a thing. Here's a goodie. Enjoy.
On to something I like to call, torture. I'm not sure why the sun baby was so awe inspiring, but my kids sure love it. When I look at the sun baby, it makes me wonder what dumb thing I could have come up with and made millions.
Have your sunglasses handy.

I was a huge Sesame Street fan as a child and so I was excited for my own kids to watch. However, I soon realized that Elmo's World was only fun to watch as a 3 year old. Elmo's voice and nails on a chalkboard = SAME.
For some freakishly weird reason, someone has compiled the Elmo's World theme song into a ONE HOUR video. ONE HOUR. Huh? Have fun.

If that wasn't torture enough, here's one more show I remember watching with my kids that made me want to rip my eyeballs out.
Caillou. First of all, why is he bald and secondly, why does his voice only have one option, whiny.

Thanks for letting me walk down memory lane with these classic (and horrible) cartoons my kids used to watch. Let me know in the comments if you watched any of these.